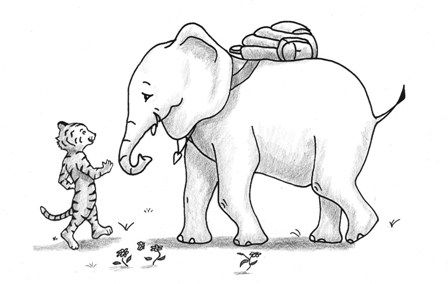 Book 1: "The Beginning of a Great Friendship"
Elly
, the elephant, lives in the African jungle. He has just finished school and has great goals for his future. To gain wisdom and experience and to become a good self-manager, he attends the
University of Life
where he will meet great Masters with special messages.
On his way, he finds
Tigy
(tie' ghee), a young tiger in trouble. They become friends and together they head out on the journey of their lives.
The purpose
of this first book is to introduce the concept of self-management and to create a desire to become a good self-manager through identification with the main characters.
Book 2: "Abby, Master of Choice"
Elly and Tigy meet their first Master, a honeybee. What can a tiny, insignificant insect teach them? They are in for a surprise. Not only do they receive the first message from a Master, but a sweet tool to remember it. And what is that bag? Magic is in the air!
The purpose
of this book is to understand the importance of choices in our lives.
Book 3: "Birpa, Master of Uniqueness"
Deeper in the jungle, Elly and Tigy encounter some very strange looking animals!   For Tigy, it is too much! Find out how Tigy overcomes his fears. The surprising new Master gives them a great lesson for life.  
The purpose
of this book is to teach the importance of understanding our specialness and that of others.
Book 4: "Orangy, Master of the Brain" 
The two travelers, Elly and Tigy, sail on a ship to Borneo. It is so much fun but Tigy's excitement drops when the captain sets the rules for the journey. Poor Tigy! Almost immediately, he breaks one of them. What's going to happen to him?
The playful Master reveals to them the mystery of the brain.
The purpose
of this book is to understand how the brain works.
Book 5: "Delfy, Master of the Body"
Floating in a cloud and pushed by the winds, Elly and Tigy cross the ocean to meet their new Master. Master Delfy is waiting for them with unexpected delights and an important message.
Does Tigy learn the lesson? Why does he end up in the hospital?
The purpose
of this book is to take care of the different needs of our bodies.
Book 6: "Empro, Master of Feelings"
Elly and Tigy continue their adventures along the high Andes Mountains. When the travelers finally arrive at the edge of South America, they are faced with a great decision. Their choice leads them into a dramatic experience that leaves Elly feeling very disturbed and Tigy worried. What can Master Empro teach them that will bring joy back to our friends?
The purpose
of this book is to learn how to manage our feelings.
Questions about our programs or our books?
To order books in Spanish or to obtain more information about student, teacher and parent training sessions, contact us.